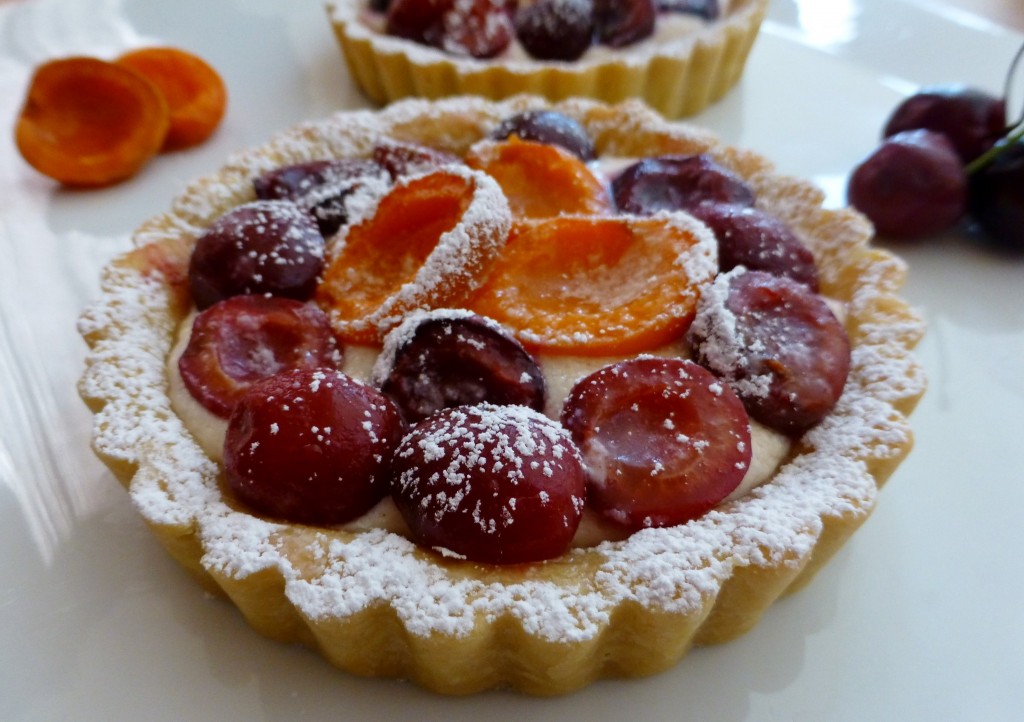 It's a pain to pit cherries, but not as bad as peeling grapes, which I had to do one day in culinary school. I thought the chef was joking at first. Who peels grapes?
I knew this friend of a friend, who did a stage at Noma, the best restaurant in the world at the time, who spent his whole day picking rosemary flowers off of rosemary sprigs with tweezers. Those teeny, bluish/purple things!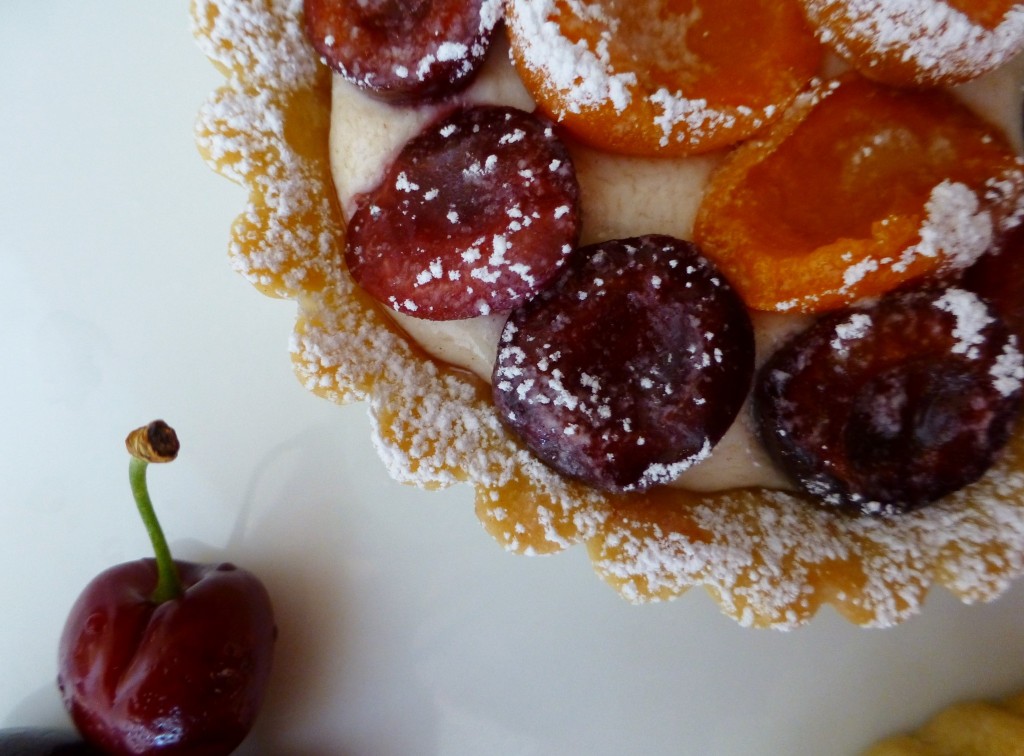 RECIPE
makes 2-3 medium tartelettes
First make the Tart Dough…
1 1/4 c flour
1/2 c powdered sugar
1/4 tsp salt
1/2 c butter, cold and cut into pieces
2 large egg yolks (save the whites for the merinque!)
1 T heavy cream
1. Sift together flour, sugar, and salt.
2. Make a well, and toss in the butter.
3. Cut up the butter into the flour with a pastry blender or two knives, until it forms coarse crumbs.
4. Separately, whisk the egg yolks with the cream.
5. Add in the eggs and cream and stir with a fork until the dough forms a mass.
6. Quickly form into a flattened disk and cover with plastic wrap.
7. Refrigerate for at least an hour or overnight.

Now Bake the Tart Shell…
1. Roll the chilled dough out on a floured surface to form a circle just slightly larger than your tart pan (or pie pan if you don't have one).
2. Preheat the oven to 375°. Freeze the tart pans with the dough molded inside, while the oven heats up.
3. Bake the tart shell (no filling yet) for 10 min covered with foil and filled with pie weights or dry beans. You need some weighted object to keep the pastry from puffing up. Carefully remove the foil, and bake uncovered for an additional 5-10 min until you see some color on the dough and it's cooked through.
4. Remove from oven and let cool.

And Finally the Filling…
1/2 c ricotta (get a true Italian ricotta from an Italian grocery)
1/4-1/3 c powdered sugar
1/2 tsp vanilla
1/2 tsp cinnamon
1 T heavy cream (or milk)
a handful of apricots, pitted and halved
a handful of cherries, pitted and halved
2 T sugar
1. Toss the apricot and cherry halves with sugar and let stand 10-15 minutes until juicy.
2. In a separate bowl, mix together the ricotta, powdered sugar, vanilla, cinnamon, and heavy cream. The mixture should be a spreadable consistency. If it's too thick, thin it out with some cream/milk. Or use more ricotta/sugar if too thin.
3. To assemble, scoop some ricotta cream into the tart shell and top with the fruit. Sprinkle with powdered sugar.