The warm chocolate ganache adds decadence, while the whipped egg whites lend airiness to this gluten-free dessert.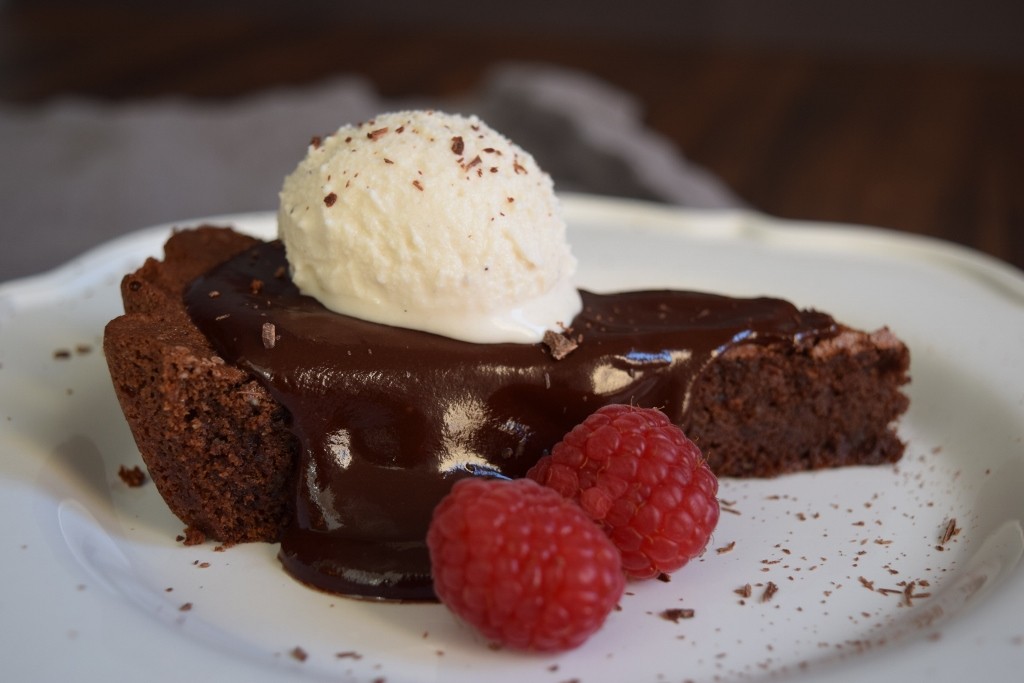 10oz bittersweet (60%) chocolate bar
1 stick butter
6 eggs
3/4 c sugar
1/2 c almonds
1 T vanilla
1/4 tsp salt
chocolate ganache
1. Grease a 9 in springform cake or tart pan. Preheat oven to 300˚.
2. Blend nuts until finely ground.
3. Cut butter into pieces, and chop chocolate.
4. In a metal bowl over a pot of simmering water, melt chocolate and butter together.
5. In another bowl, combine the egg yolks and sugar, and beat with an electric mixer until pale yellow and thick, about 3 min.
6. Slowly add melted chocolate/butter into the egg yolks/sugar and mix to combine.
7. Then add the nuts, vanilla, and salt.
8. In a clean bowl, whip the egg whites until stiff white peaks form.
9. Fold the egg whites into the batter with a rubber spatula until just combined.
10. Pour into the greased pan and bake for 35-45 min, until the center barely jiggles when you tap it, or a toothpick comes out clean when inserted into the middle.
Finish with warm ganache and ice cream or dust with powdered sugar.
serves 6-8