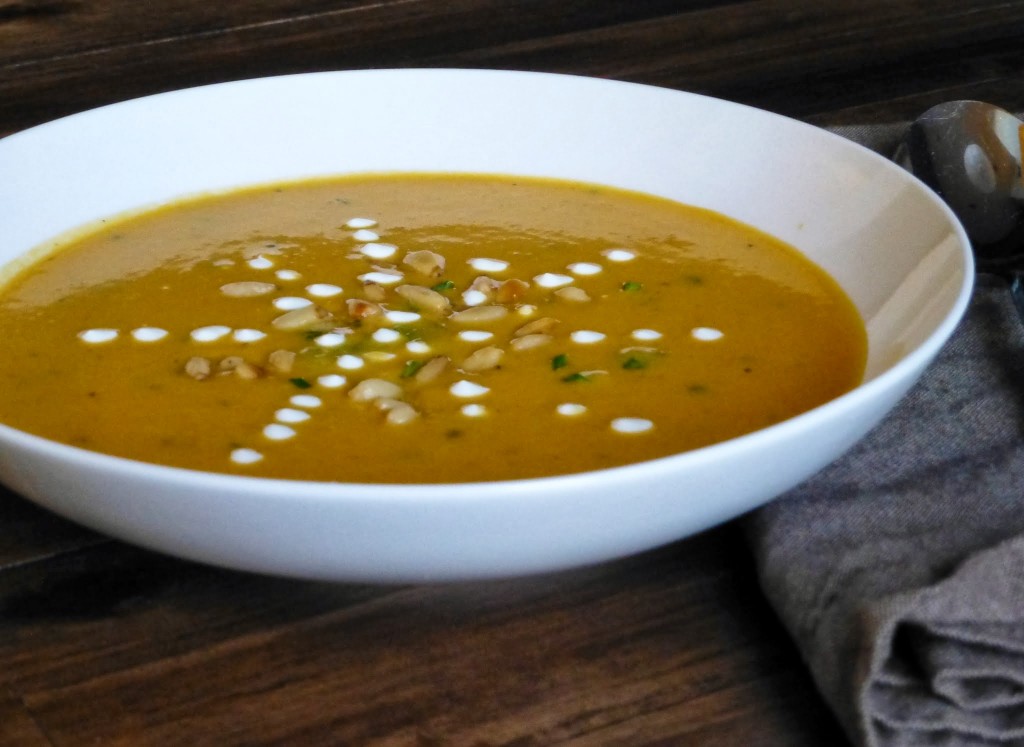 There are probably a million different butternut squash soup recipes online. This one has a double ginger kick to counteract the sweet flavor of the squash. I made it for a holiday party, and this lady said it was the best Christmas present she received this year. Her husband didn't seem too happy about the comment.
2 1bs butternut squash, chopped, with skin and seeds removed
1/4 c olive oil
1 tsp thyme leaves
1/4 c butter
1 onion
1 1/2 T fresh grated ginger
1 qt vegetable or chicken stock
1 c heavy cream
1 T red wine vinegar
2 tsp ground ginger powder
2 tsp fresh parsley, chopped
salt and pepper
pine nuts and crème fraîche, for garnish
1. You want to roast the squash first, to get that deep roasted flavor and some carmelization. Toss the cut up squash with some olive oil, kosher or sea salt and thyme leaves. Roast at 350˚ for about 25-35 minutes until they brown some and are soft (easily pierced with a fork).
2. In a large pot, melt the butter and saute the onion with the fresh grated ginger (not the powder yet).
3. After a few minutes add the squash pieces and then the stock (preferably already heated, but I know some of you won't do this).
4. Let cook for about 45 min-1 hr.
5. Take off heat and puree with an immersion blender after it's cooled a bit. If you don't have an immersion blender, puree it in a blender or food processor, just make sure in this instance it's cooled and/or you leave a hole for some steam to escape, so it doesn't explode on you.
6. Return the soup to the pot and over low heat, add the cream, ginger powder, fresh ground pepper, fresh parsley, and red wine vinegar. Taste for additional salt and to see if it needs more of something.
7. Garnish with crème fraîche, toasted pine nuts, and/or some fresh thyme leaves or fresh parsley.