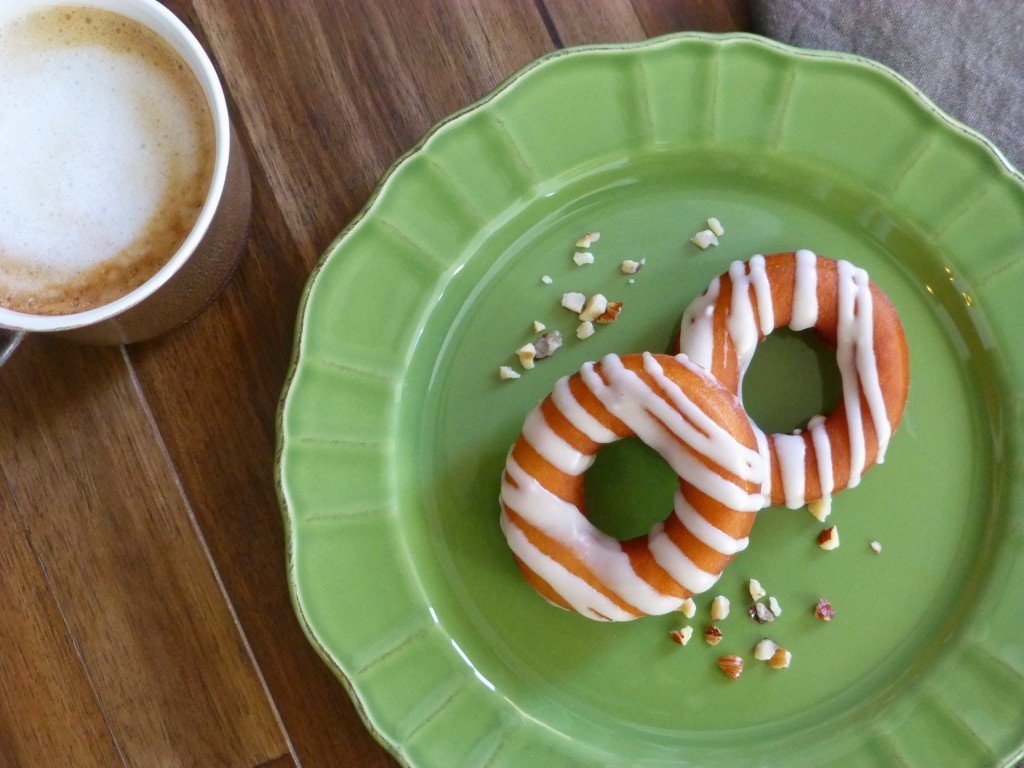 I thought about posting my own rendition of the Cronut, you know the croissant + doughnut thing that has people lined up outside of Dominique Ansel's bakery hours before it opens and has other bakers making knockoffs and calling them things like "Cro-nots" or "Fauxnuts." If you've ever made croissants, you know (*spoiler alert*) there's a ton of butter inside. So to me when I think of a Cronut, I think of deep fried butter stuffed with a butter cream and buttery glaze. If you're into butter, obviously, this is your heaven. Don't get me wrong, I love a warm croissant, and I'll try almost anything once, but I don't think I would really enjoy a Cronut. No offense, Dominique.
So instead, here's a traditional doughnut with a maple-bourbon glaze and some toasted hazelnuts. If you're making them for the kids, maybe skip the bourbon…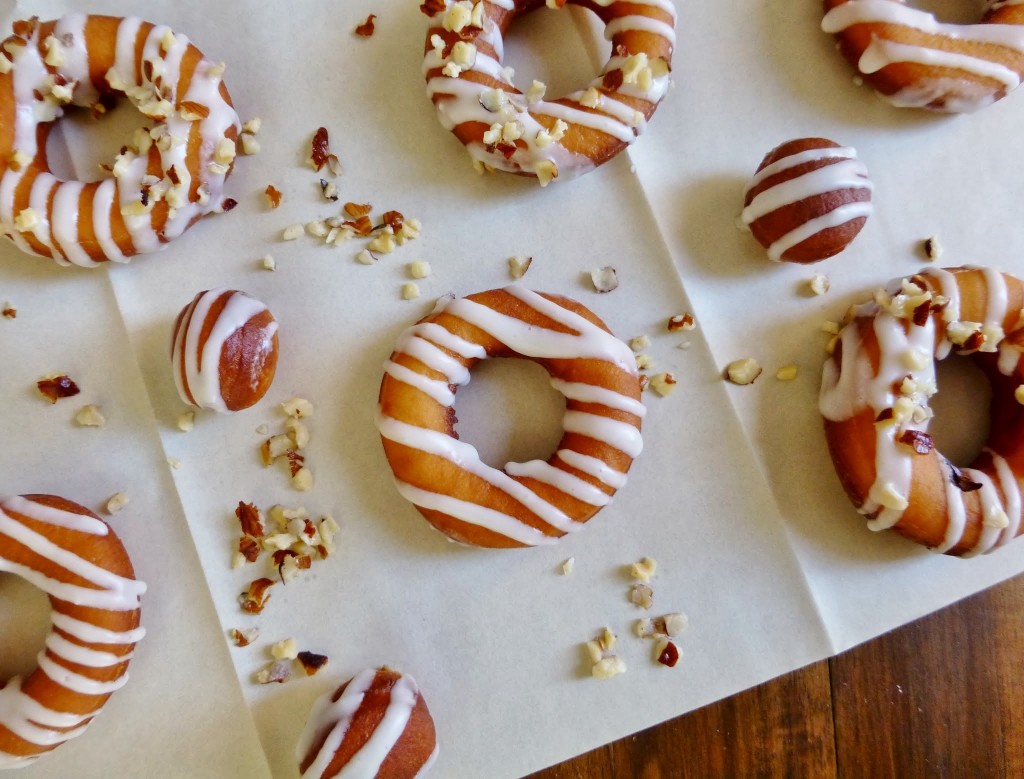 In Italy, there was a bakery called, Mario Barone, a couple shops down from the restaurant I worked at. I'd get a break between lunch and dinner service, and almost every day, I'd walk down and order a cappuccino and a pastry. I still remember the cappuccino was 1.20 and the pastry generally .80 euros, which seemed cheap compared to going to Starbucks in the States. The first month, I tried a different pastry each day until I had tried them all. By the end, I had found my favorite, the ciambella, a puffy doughnut sprinkled with sugar. I'd sit at the table to the side of the display case and read the paper, which meant I looked at the pictures and got excited when I knew a random word. I had the most success reading the futball section, which was the majority of the paper anyways because I could read the numbers and knew the word for "win."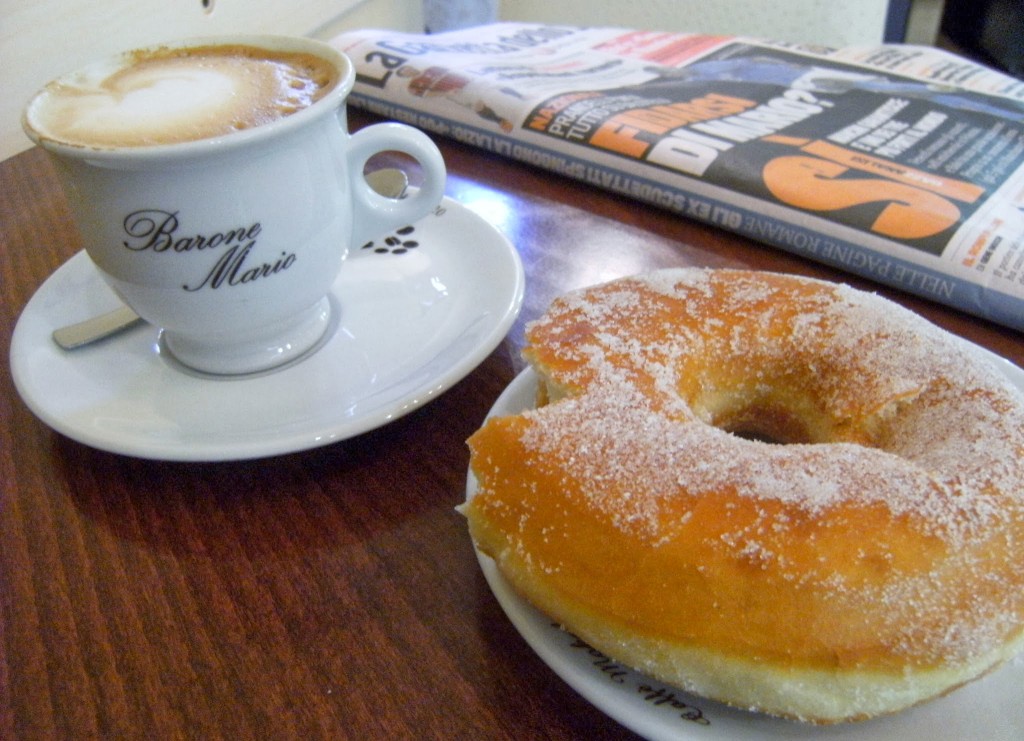 The shop was mostly empty at this point in the day, and the lady who worked there would always ask me how my day was while she was sweeping. "Bene, grazie," I'd usually reply with the occasional simple observation like, "There's a chestnut festival outside your front door." Well, at least I thought she was asking me how my day was. It turns out the shop actually closed at that time and she was telling me that I could stay while she cleaned up. It took me a few days, but after my vocabulary improved, I figured it out. I felt bad and wondered if I should stop coming at that time, but she said she didn't mind and told me to sit down and brought me a cappuccino.
I loved that place. I still remember the Pane dei Santi, a fruit bread she made for All Saint's Day, and how excited she got when my mom and sister came to visit. I didn't even have to introduce them. "That's your sister and mother?" she said in Italian. "Si, è mia madre e mia sorella." I guess we look alike.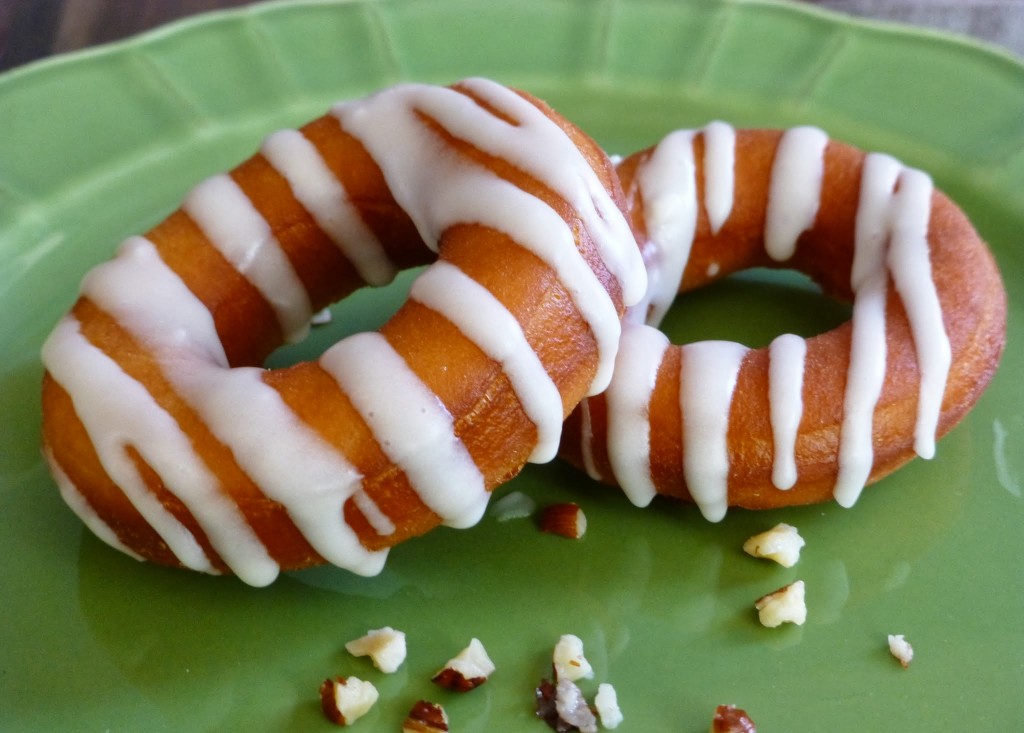 DOUGHNUT RECIPE
makes 3 dozen
4 1/2 tsp yeast
1 c milk
1/3 c butter
1/3 c sugar
1 tsp salt
4 c flour
2 eggs
*You can make these dairy-free by substituting vegan butter and unsweetened soy milk. I haven't tried them completely vegan with no eggs, but if you're into that sort of thing, you can check out a new vegan alternative to the Carrot Cake Moon Pies.*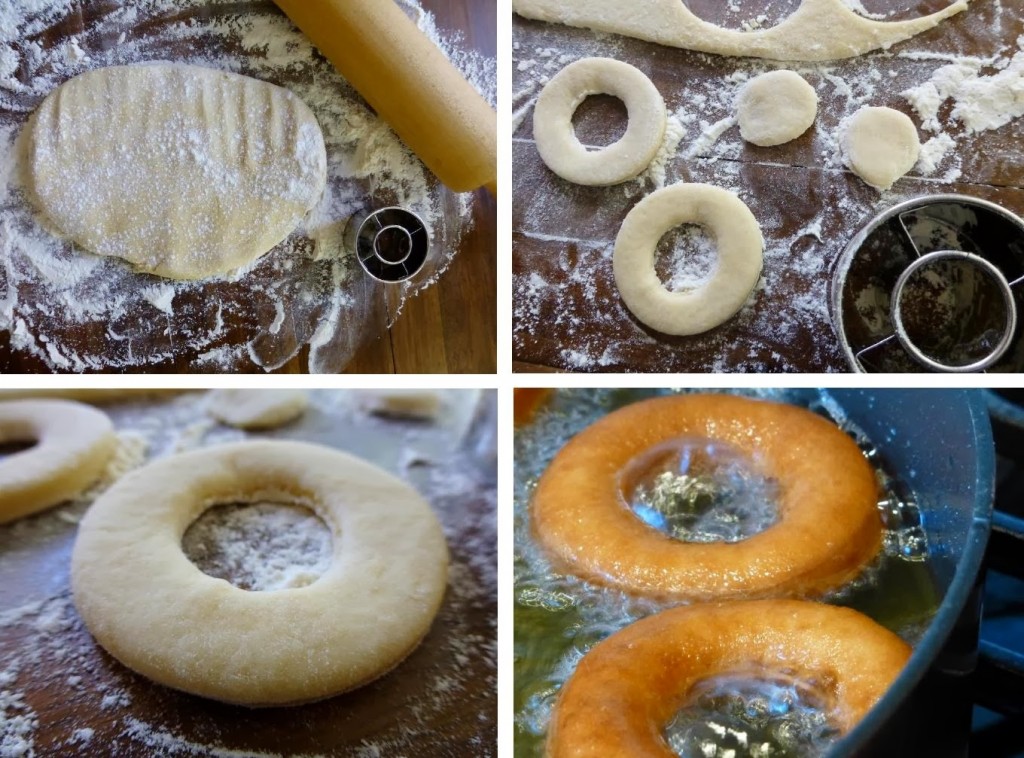 1. In a pot, over medium heat, melt the butter into the milk.
2. Remove from the stove, and let cool to 105-115˚ (about the temp coming out of your hot water tap, if you don't have a thermometer, maybe a bit cooler).
3. Toss in the yeast and let sit a few minutes, then stir in the sugar and salt.
4. Pour into a bowl and add the flour one cup at a time.
5. Lastly add in the eggs.
6. Knead a few minutes on the counter until it comes together (or by electric mixer with the dough hooks).
7. Place in a greased bowl, cover with plastic wrap, and chill in the refrigerator for at least 2 hours. You can also leave it in there overnight and make them the next morning.
8. Roll the dough out about a 1/2 in thick.
9. Cut with a doughnut cutter, or use a two circle cutters. I used to use a mason jar and a plastic bottle cap until I got a doughnut cutter.
10. Let rise on a parchment-lined sheet while you heat your oil.
11. Heat the oil until 375˚. Temperature is important because if the oil is too cold, the doughnuts will absorb the grease, where as if it's to high, they'll burn and the centers won't cook.
12. Cook just a minute or two on each side.
13. Place them on another tray with some paper towels underneath to absorb the grease.
14. Glaze and eat. You can toss on some chopped, toasted hazelnuts, too (toast in the oven at 350˚ for about 7 minutes).
Like all fried foods, doughnuts are best eaten minutes after frying them. And if you're like me, they're best with a cup of coffee or cappuccino. That whole dunking doughnuts into coffee thing is pretty cool.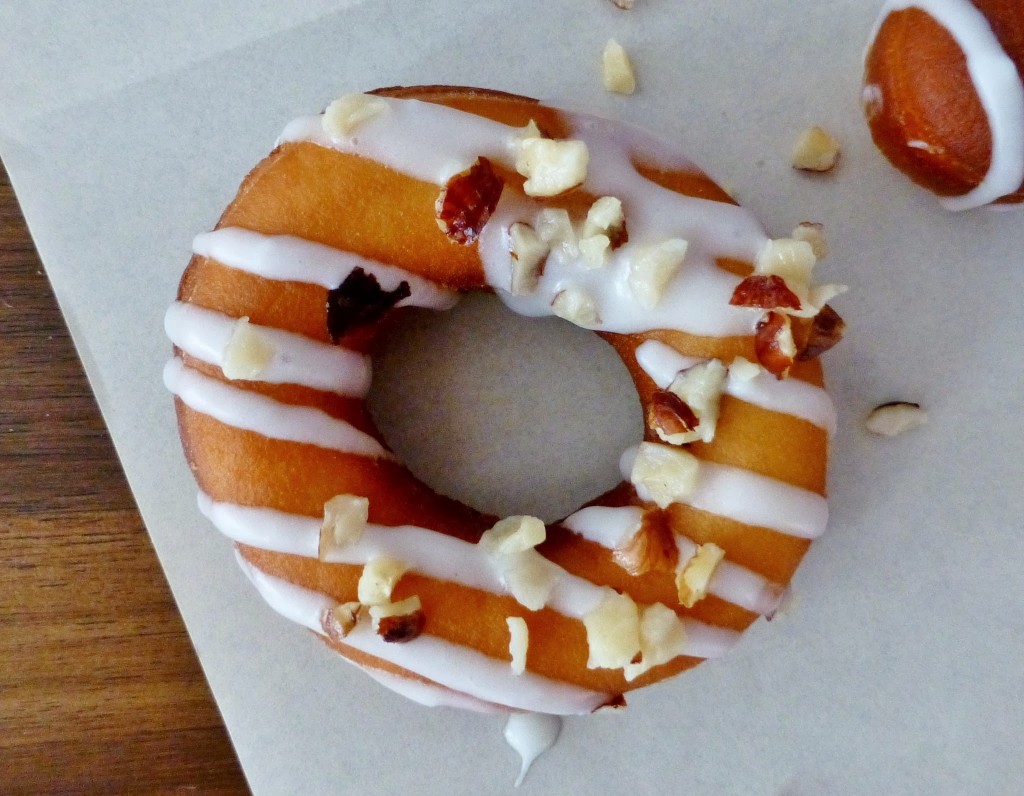 MAPLE-BOURBON GLAZE
4 T butter, melted
2 c powdered sugar
1-2 T bourbon
2 T maple syrup
I use the glaze on other things, too, like roasted butternut squash or yams. It's like dessert.
1. Mix the ingredients together until they form a glaze. Adjust with more powdered sugar to make it thicker or some milk to thin it out.