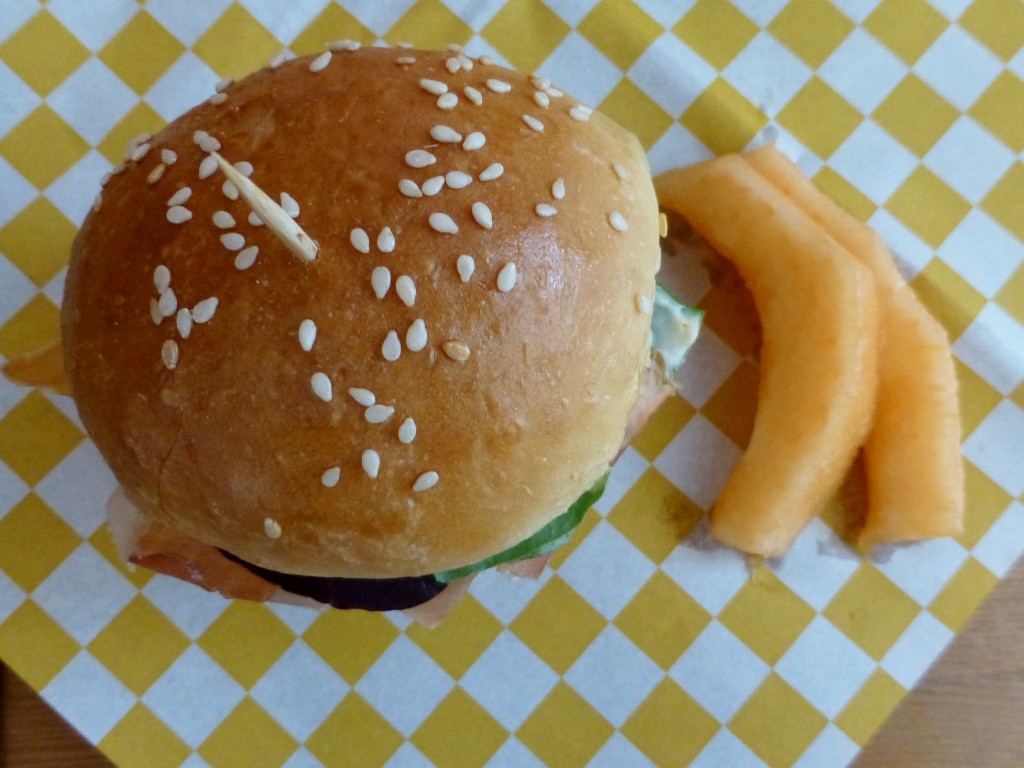 SESAME BUN RECIPE
2 1/4 tsp yeast
1/4 c water (about 110˚)
1 c buttermilk, room temperature
1/4 butter, melted
1 egg
1 3/4 tsp kosher salt
3 1/2 c flour
sesame seeds (for garnish)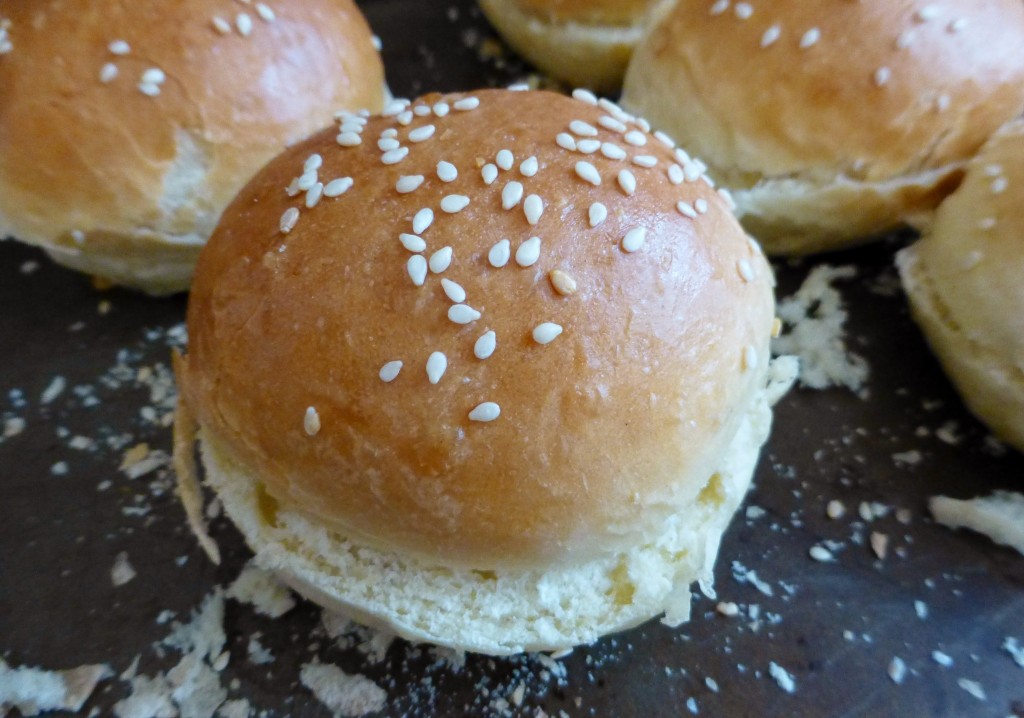 1. In a large mixing bowl, stir the water and yeast together. Let stand 5 minutes.
2. Add in buttermilk, butter, and egg. Mix. Then add in salt.
3. Stir in half of the flour. When it's mixed together, add in the rest of the flour.
4. Flour the countertop and knead the dough for 5 minutes, adding additional flour if necessary to keep it from sticking.
5. Transfer to a lightly oiled bowl and cover with plastic wrap. Let rise for 2 hrs.
6. Turn the dough out onto the counter and punch down. Divide into about 12 pieces for minis or 6 for regular sized buns.
7. Roll them into balls by pressing firmly with the edge of your hand in a clockwise motion.
8. Place on a baking sheet. Mist them with water (or you can do an egg wash) and sprinkle on the sesame seeds. Let rise 30 minutes.
9. Bake in a 400˚ oven for 13-15 minutes for minis, longer for larger buns. They should be golden brown.
BURGER RECIPE
makes about 6 sliders

1 pound ground chuck (the beef shoulder)
salt and pepper
12 slices of prosciutto
handful of greens/arugula
a little wedge of sharp provolone, shaved
1/4 c cantaloupe, pureed
1/4 tsp chili flakes
1 c mayo (1 egg yolk, 1 tsp vinegar, 1 tsp mustard, 1 c veg oil, lemon juice, salt + pepper)

To make the melon mayo:
You can go all in and make your own mayo for the base. It's not that bad if you have a food processor. Add the ingredients in the parenthesis, except the oil and blend, then slowly drizzle in the oil and continue to pulse until thick. Adjust with lemon juice/salt.
Then puree a handful of cantaloupe pieces (no skin or seeds) with your mayo along with a pinch of chili flakes.
To make the burgers:
1. Shape the ground chuck into patties a little bigger than the buns (remember they'll shrink when you cook them).
2. Season with salt and pepper.
3. Heat a griddle or grill and cook a few minutes on each side. Place some shaved provolone on top of the patties after you flip it.
To assemble:
Toast the buns under the broiler or on the grill for a minute or two. Spread on some of the melon mayo. Add the burger, prosciutto, and some greens. I poke them with skewers so they stay together. Serve with cantaloupe or put some right on the burgers. Enjoy.