I don't get why empanadas aren't more popular in the US. Meat and vegetables in a pastry shell – it's a meal in an edible container. And then there are fruit-filled ones for dessert. The fillings are endless. Plus, you can eat them out of your hand, no utensils needed, which makes them great for picnics or on the go. I think they should be on the same level as burritos and pizza in this country.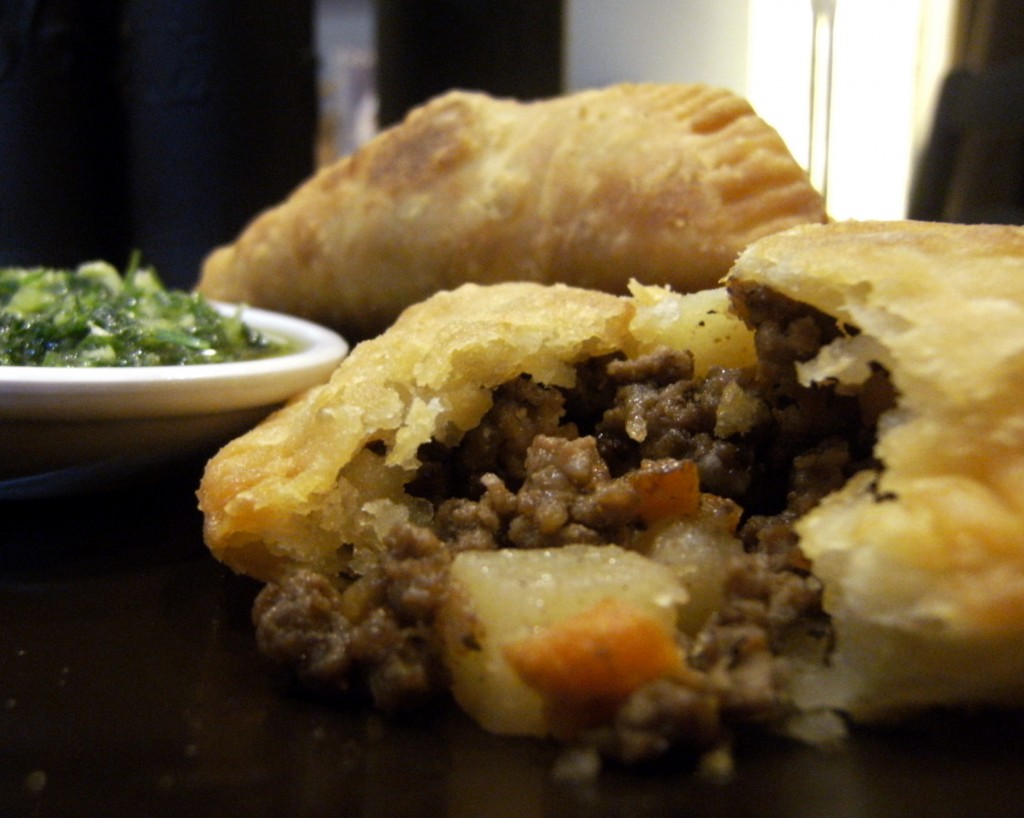 Some days, I dream about opening up an empanada shop. I'd serve ones like bacon and egg empanadas for breakfast, then confit chicken, sweet potato and honey, and "the finishers" like goat cheese with dulce de leche for dessert.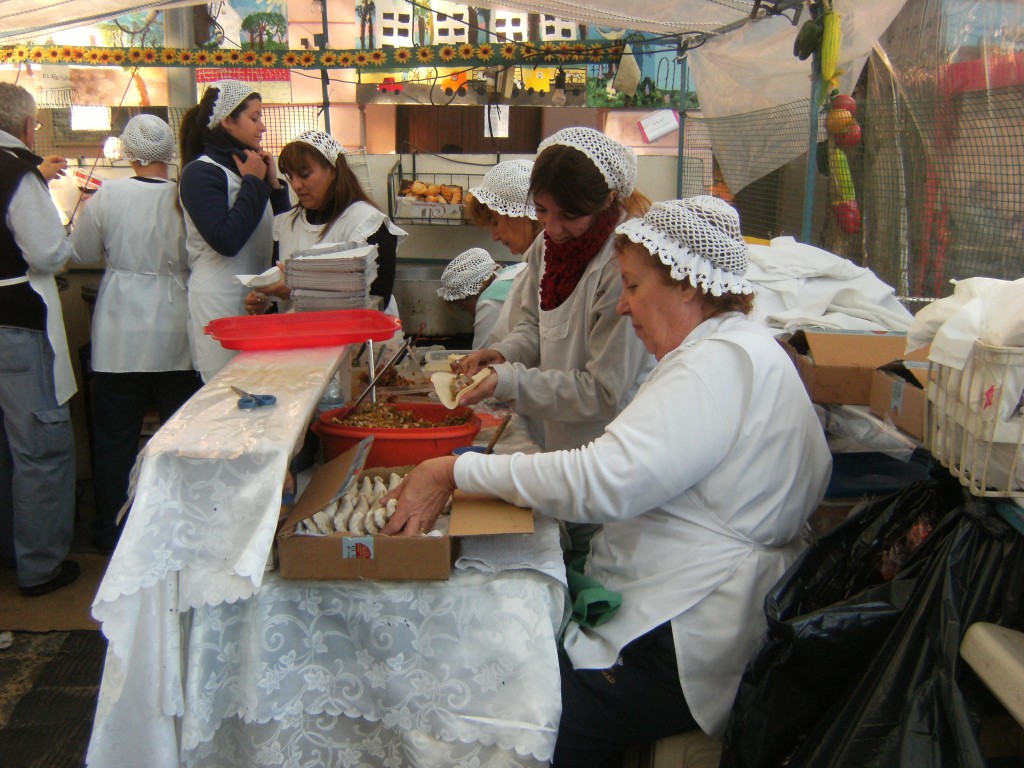 The best empanada I've ever eaten came from these ladies at the Feria de Mataderos, a street market in Buenos Aires. They operate out of a tent across from a large stage, which showcases Argentina folk dancing. They have the assembly line production mastered. One woman preps the dough, while a couple stuffs and seals them side-by-side. Another lady, waits impatiently for the ladies to finish, so she can drop them in the deep fryer. You can't get a fresher empanada than this! I've often wondered if there is any correlation between great empanada making and doily hat wearing. If you're superstitious, maybe throw one on along with your apron…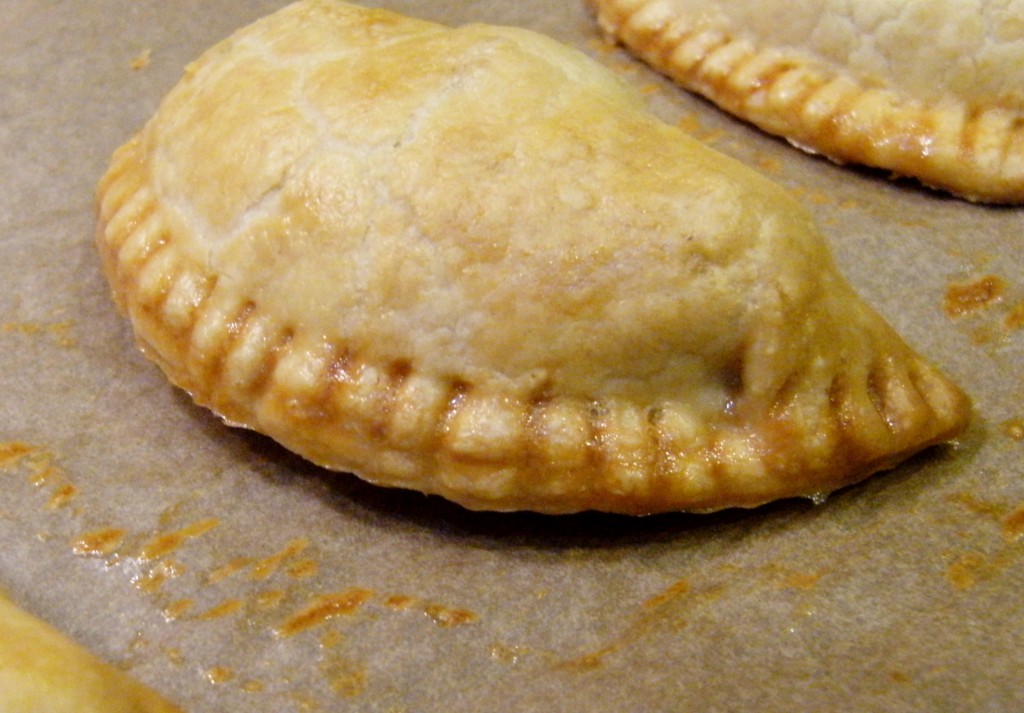 This is a recipe for a pretty classic empanada, beef and potato. Once you get the crust down, try experimenting with different fillings. It may seem obvious, but make sure you taste the filling before you stuff it. If it's bland right now, it'll still be bland when you bite into it later. There's nothing worse than going through all the effort to make empanadas and having the filling turn out dry or lacking in flavor.
Pie Crust RECIPE
makes about a dozen empanadas, or one pie shell
1 stick butter, cold and cut into pieces
1 1/3 c flour
1/2 tsp kosher salt
4 T ice water
1. Mix the flour and salt together.
2. Form a well and drop in the cold butter pieces.
3. Using two knives or a pastry blender, cut in the butter to form coarse crumbs. (If using a food processor, use the "pulse" button throughout)
4. Drizzle in the ice water and toss with a fork until it comes together in a mass.
5. Form the dough into a flat disk, and cover with plastic wrap.
6. Chill in the refrigerator at least an hour, and up to overnight.
Filling RECIPE
for about a dozen empanadas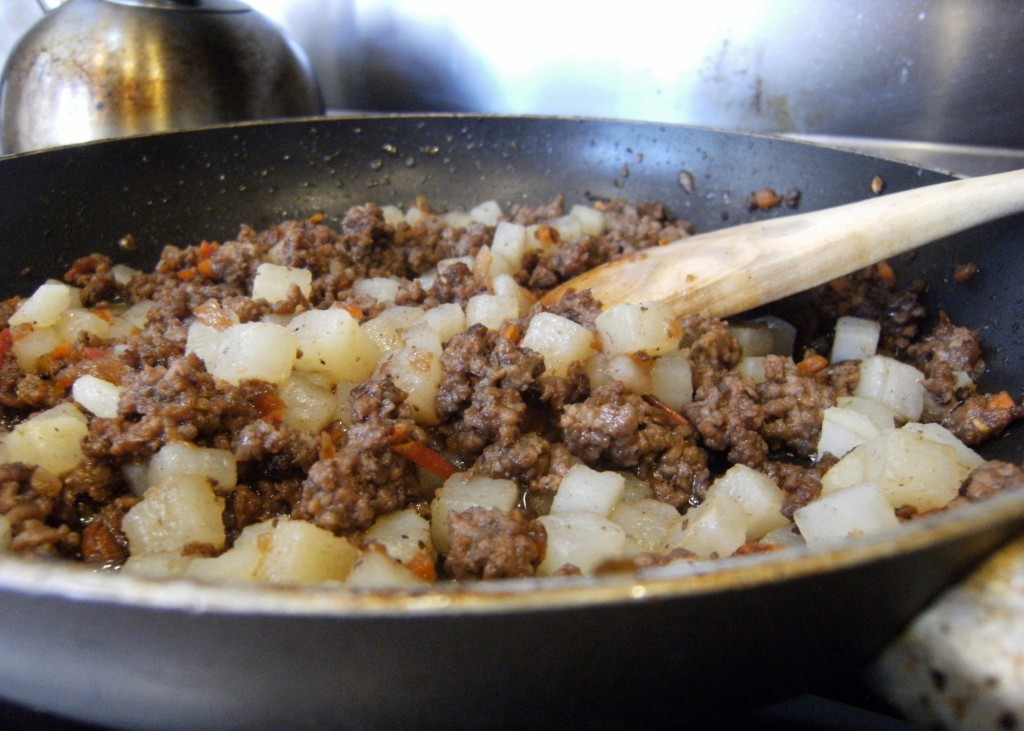 1 large potato, small dice and boiled
1-2 T oil
1/2 an onion, small dice
1 carrot, small dice
2 T flour
1 c beef stock, heated
1/2 lb. ground beef
1 tsp cumin
1 tsp paprika
1 tsp kosher salt
1/4 tsp chile powder
1/2 c red wine (preferably a malbec)
egg wash (1 egg + 1 T milk)
1. First, prepare your potato. Cut it into small cubes and boil 3-5 minutes until tender. Strain and set aside.
2. Heat a pan with a little bit of oil.
3. Sauté your veggies (the onion and carrot) and beef (broken into pieces) for about 5-10 minutes.
4. Add flour. After 1-2 min, add the malbec, reduce, then add the beef stock, and cook until thickened like a gravy.
5. Gently toss in the potatoes. Be careful not to smash them.
6. Take off heat and let cool. Chill in the fridge for an hour.
Now that you've made the crust and the filling, you are ready for the assembly.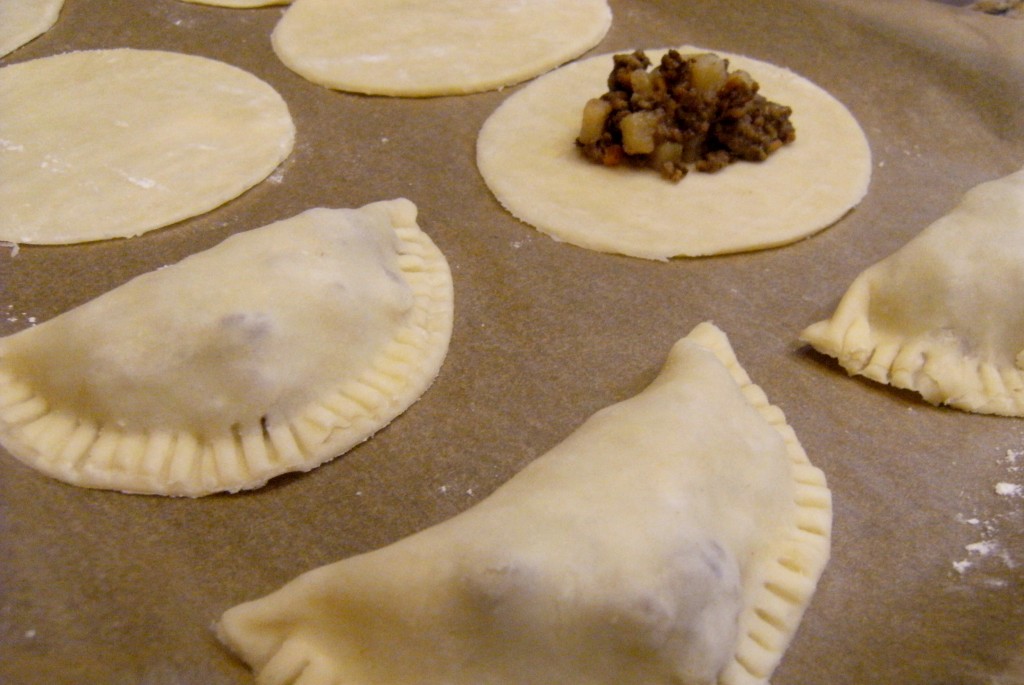 1. Roll out the pie dough to about a 1/4 inch thick. If it's too thin, the filling might burst out, but if it's too thick, it'll taste doughy. Use flour as necessary, so it doesn't stick.
2. Cut out circles with a cookie cutter. 3-4 inches in diameter is a good size.
3. Drop a spoonful or two of filling into the center, leaving space around the edge.
4. Wet the border of the empanada with a little water. You can run your finger around the edge or use a pastry brush.
5. Seal the empanada with a fork or make tiny cuts outward around the edge with a knife and fold one "panel" over the other to produce a "feathering" effect.
Empanadas freeze really well. At this point you could lay them out on a tray lined with parchment to freeze. Once they're frozen, you can transfer them to a container. If you dump them in a container while they're still soft, they'll stick together. Otherwise they're ready to be cooked.
7. To bake, brush the empanadas with the egg wash.
6. Transfer to a parchment lined baking tray and bake at 375° until golden brown about 20-30 minutes.
The empanadas can be served by themselves, with sour cream, or with chimichurri, a garlicky sauce Argentines put on their steaks (not so much their empanadas… but I like it with them).
Chimichurri RECIPE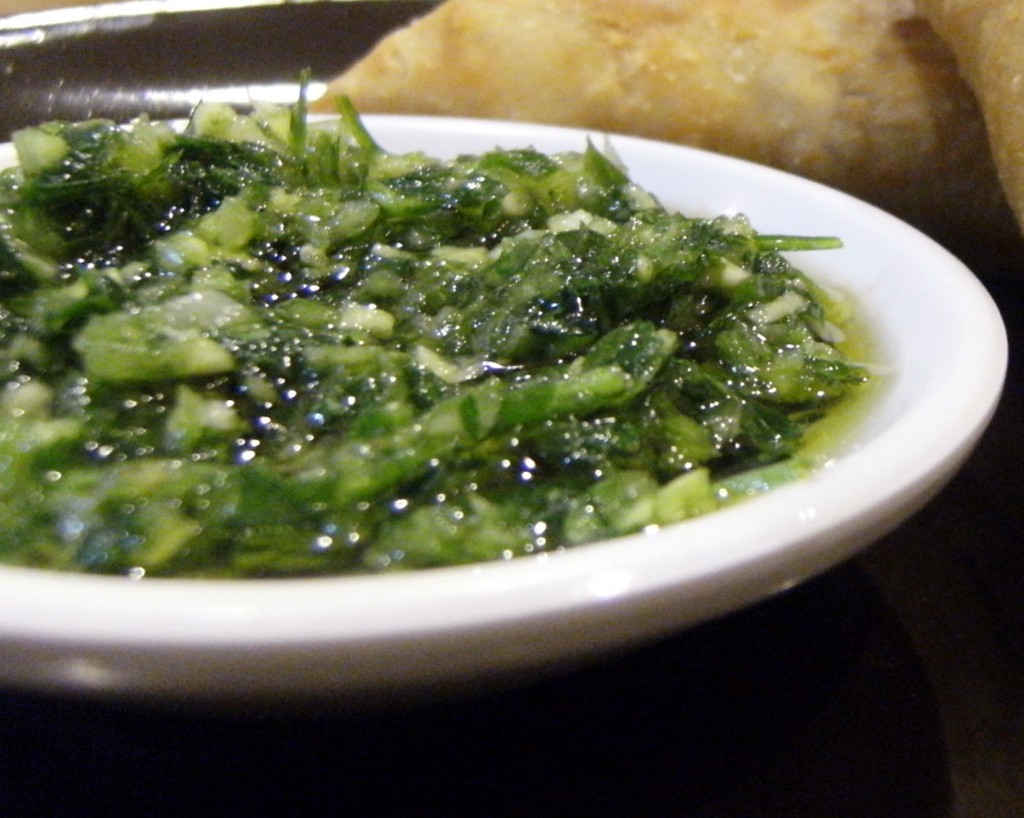 1 bunch of parsley, just the leaves
2-3 cloves garlic, peeled
1/2 c olive oil
1/2 lemon, squeezed
1/2 tsp salt
1/4 tsp crushed red pepper
Combine all items in a food processor and pulse until minced. Leftovers will keep in the fridge for a while.