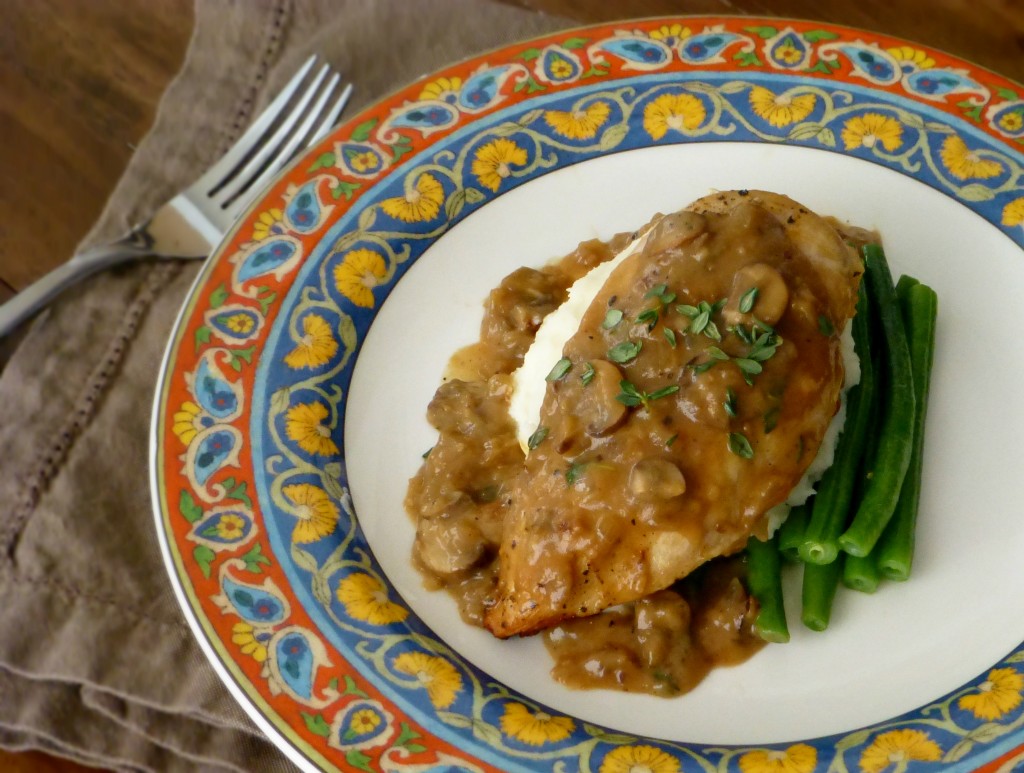 I don't have much to say about chicken with mushroom sauce, other than mushroom sauce isn't very photogenic. It looks nice when the plate's in front of you, but in pictures, it kind of looks like brown goop.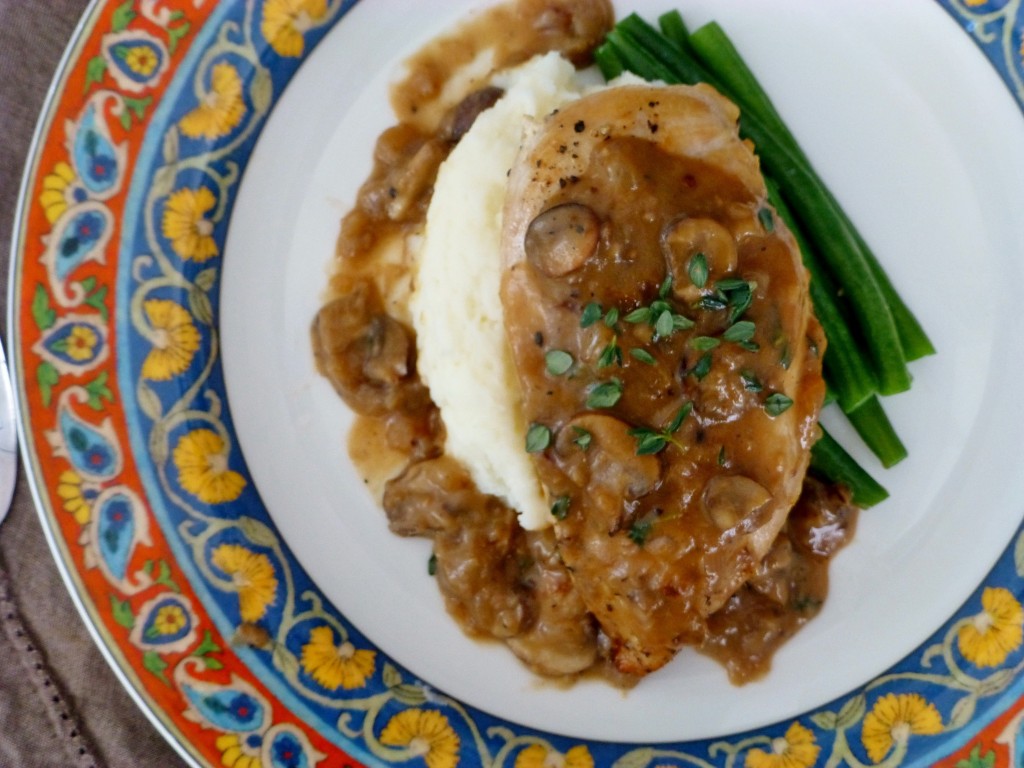 Anyways, I served it with some steamed green beans, and these mashed potatoes, I've posted before. You could also plate it over some homemade pasta or egg noodles.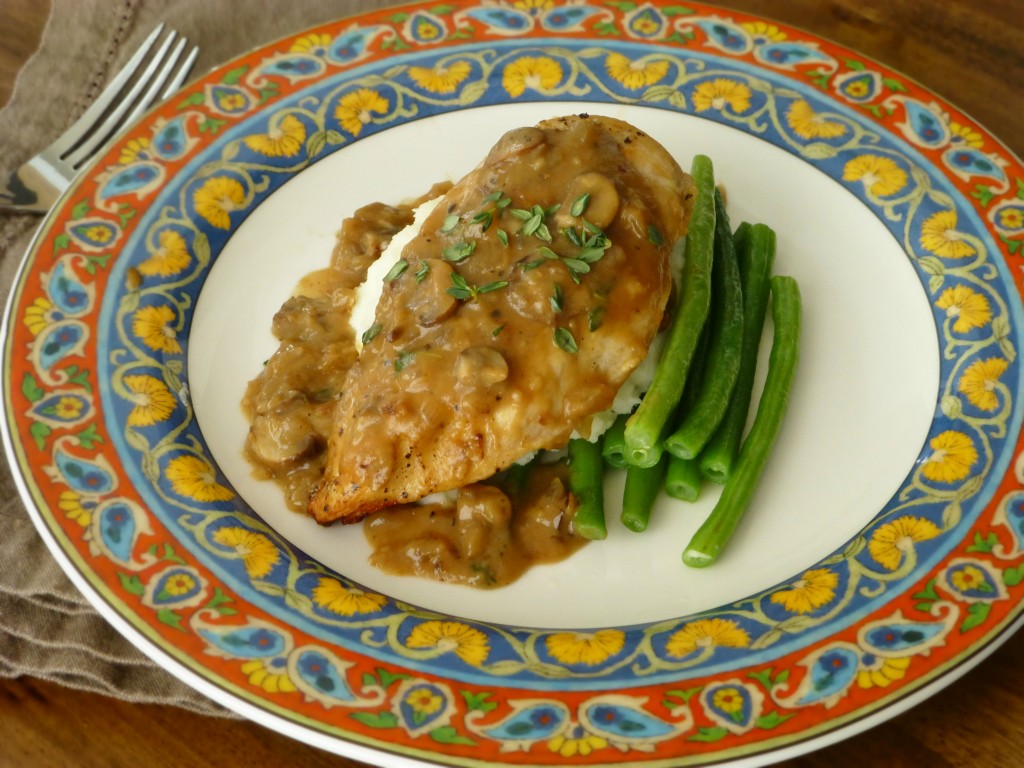 I used crimini mushrooms in the sauce. Have you noticed when you buy mushrooms at the store, there are packages of "baby bellas" next to the "criminis," and they look very similar? That's because they are the same mushroom. Criminis grow up to become portobellos, which is why people also refer to criminis as baby bellas. (I'm not sure why there's a gender switch from bella to bello, but I don't judge).

RECIPE
4 chicken breasts
2-3 T olive oil
1 shallot, chopped
1/2 an onion, chopped
8 oz crimini mushrooms, sliced
1/4 c chardonnay
2 T flour
2 c chicken stock, heated
1-2 tsp fresh thyme leaves (not the stems)
1 T butter
salt and pepper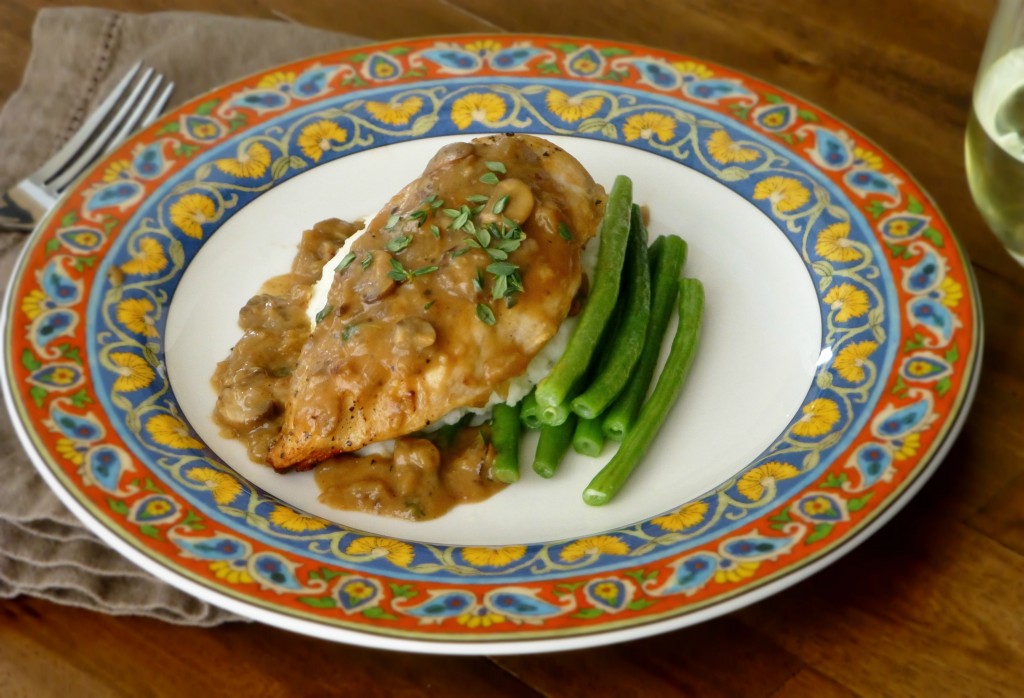 1. Season the chicken with salt and pepper. Heat some oil in a pan and cook on both sides until done, about 6-7 minutes a side. Don't move the chicken around, or you'll mess up the sear.
2. When the chicken's cooked through, transfer to a plate. While the chicken's resting, prepare the sauce.
3. In the same pan, in the same oil, sauté the onion and shallot, then add the mushrooms along with some salt and pepper.
4. After a few minutes, deglaze with the wine.
5. Add in the flour, and stir gently, careful not to smoosh the mushrooms.
6. Then add in the heated chicken stock. Bring to a boil, then simmer until it thickens, a couple minutes. Toss in the knob of butter to finish.
7. Spoon on the sauce over the chicken and garnish with some extra thyme leaves.